Submitted by ericbsd on Sat, 02/29/2020 - 22:02
I am happy to announce the availability of GhostBSD 20.02. ZFS partition has been added to the installer custom partition editor, and it is now possible to install GhostBSD with ZFS on the same disk containing Windows, Linux, or Mac OSX partitions. The system has been updated to 1201512. The Update Station application has multiple improvements, and numerous software applications have been updated.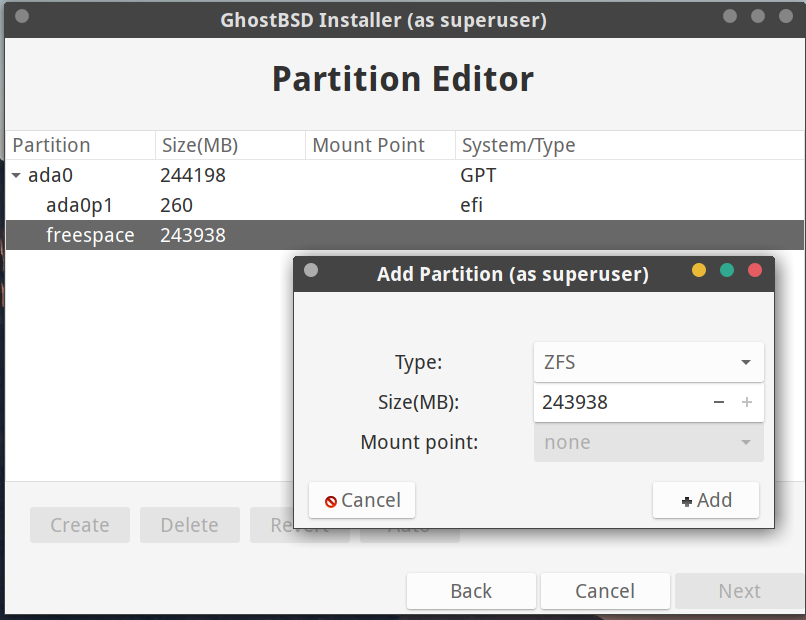 What has changed since 20.01
Added feature to force upgrade all packages on a system upgrade with Update station

Improved Update Station update progress

Improved Update Station the tray icon behaviour

Added powerd by default to improve laptop battery performance
Ticket Completed
To upgrade if not done already:
uname -U should output 1201512
sudo pkg update -f
sudo pkg upgrade
Where to download:
All images checksum, hybrid ISO(DVD, USB) and torrent are available here:
https://www.ghostbsd.org/download
For writing an iso to a USB stick:
On BSD
dd if=GhostBSD-20.02.iso of=/dev/da0 bs=4m
On Linux
dd if=GhostBSD-20.02.iso of=/dev/sdc bs=4M
On Mac
dd if=GhostBSD-20.01.iso of=/dev/disk2 bs=10240
Feedback
Is there anything you can help with or get involved in? Maybe you want to discuss your experiences or ask us some questions? If so, please contact us on Telegram https://t.me/ghostbsd and GhostBSD Forums.
Find a bug?
Please, before reporting a bug, make sure there is no related bug reported. When reporting a bug, please give as much detail as possible on the issue with how to reproduce. Report a bug here: https://issues.ghostbsd.org/projects/ghostbsd. If you need help please visit https://forums.ghostbsd.org or https://t.me/ghostbsd.
Donate or become a patron.
We depend on you to get GhostBSD a better system. Please donate or even better become a patron!
Donate
to GhostBSD or become a
GhostBSD Patron
on Patreon.